ABOUT AIR TRANSPORT RATING AGENCY
Air Transport Rating Agency (ATRA) is a rating agency based in Geneva (Switzerland) dealing with aviation risk assessment and advanced data analyses in the aviation sector.
ATRA selects robust data sources, applies scientific analyses and uses advanced methodological approach to compute a wide range of airline and aviation-related data and to generate meaningful information in support of decision-making.
Read more
"Which Airlines are the safest ?", a report made about airlines security and ATRA (from 2'26 onwards) by German ARD1 TV Program (DasErste.de) during the Paris Air Show, broadcasted on Sunday Oct 14th 2013:
"The 10 safest airlines", a video interview about ATRA holistic safety rating 2012, made by Aeronews TV, the 1st aeronautics web TV:
ATRA HOLISTIC WORLD AIRLINES AWARDS DURING PARIS AIR SHOW LE BOURGET 2013
First "ATRA World Holistic Airlines Awards"
The first ATRA World Holistic Airlines Awards took place at the International Air Show in Paris during which the company awarded the top five world airlines, presented with the best holistic safety profiles.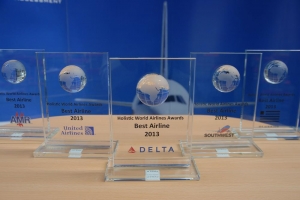 ATRA Holistic World Airlines Awards during Paris Air Show Le Bourget 2013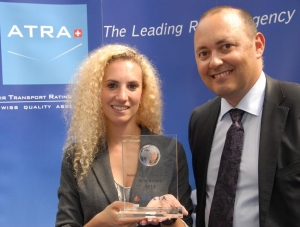 Ariel Beresniak, CEO of ATRA and Fleur Wesling, Mediacom Consulting
ATRA will participate in the 2015 World Aviation Safety Summit
On March 16-17, 2015 an international delegation of a who's who of the aviation industry will be gathering at the  World Aviation Safety Summit in Dubai.
ATRA releases the 2014 Airline Holistic safety rating
The 94 most important airlines in terms of their financial revenue are analysed for their safety profile according to ATRA multi-criteria analysis.
Airlines and Aviation Professionals
Travel Agencies and Tour Operators
Insurance and Investment Companies
etc…
Air Disaster Analyses
Extracts from Air Disaster Analyses with special authorization from Altipresse publisher.